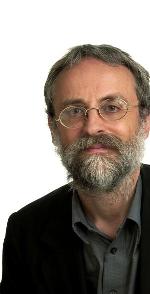 Christopher Rollason
Dr Christopher Rollason is a British national living in France. He graduated with First Class Honours in English literature from Trinity College, Cambridge (England) in 1975, and obtained his Ph.D. from York University (England) in 1988, with a dissertation on Edgar Allan Poe. For eight years up to 1987 he was a member of the Department of Anglo-American Studies at the Faculty of Letters of Coimbra University (Portugal). Dr Rollason has worked in recent years in various contexts – institutional contacts, conferences, publications, etc – with the following universities: Surrey and Manchester (England), Caen (France), Bologna (Italy), Vigo and Córdoba (Spain) San Marcos (Lima, Peru), and, Kakatiya University (Warangal), CIEFL (Hyderabad) and IIT Kanpur, all in India. In March 2006 he was a Visiting Professor at Jawaharlal Nehru University (Delhi). He is a member of AEDEAN (the Spanish Association of Anglo-American Studies).
Dr Rollason has been Language Editor for the Delhi-based Atlantic Literary Review and has contributed to that journal and to a number of the anthologies issued by Atlantic Publishers, Delhi (see: http://www.vedamsbooks.com/). Among the Indian literary figures he has written on are Salman Rushdie, Vikram Seth, Vikram Chandra, Amitav Ghosh, Raja Rao, Arundhati Roy and Manju Kapur. In 2002 he co-edited (with Dr Rajeshwar Mittapalli of Kakatiya University) the anthology 'Modern Criticism', published by Atlantic, to which he also contributed an essay on Walter Benjamin. In 2003 he co-edited (with Dr Dora Sales Salvador of the Universidad Jaume I de Castellón, Spain) 'Postcolonial Feminist Writing', a special issue of the Atlantic Literary Review. He has also contributed to a number of other Indian publications: The Pioneer (Delhi), The Statesman (Kolkata/Calcutta), IJOWLAC (Kolkata/Calcutta), Kakatiya Journal of English Studies (Warangal), Pegasus (Agra), Re-Markings (Agra), Summerhill (Simla), Seva Bharati Journal of English Studies (Mindnapore, West Bengal) and Reflections (Bhagalpur, Bihar).
Other websites on which Dr Rollason has published include: The Walter Benjamin Research Syndicate and The Modern Word (essays on Jorge Luis Borges and José Saramago). In addition, he has contributed a large amount of material on Bob Dylan to the Bob Dylan Critical Corner site, which he co-edits with Nicola Menicacci, as well as writing for the UK-based Dylan print magazine 'The Bridge'. He was a speaker at the major Dylan conference held at the University of Caen in 2005.
Dr Rollason's review of Dora Sales Salvador's important book 'Puentes sobre el mundo' (an outstanding study of Vikram Chandra and José María Arguedas) has had print publication several times in various forms, and can be found in full here on SEIKILOS. Also on SEIKILOS and together with Dora Sales, he runs an ongoing bibliography of Manju Kapur.

A large number of Dr Rollason's articles are collected here at SEIKILOS, in both English and Spanish.
Click here for a full chronological bibliography of Christopher Rollason's (print and Internet) publications, here for a selected list of his on-line articles organised by subject; and here for a dynamic on-line bibliography arranged by publication type.
Dr Rollason can be contacted at rollason@9online.fr. His blog, which is bilingual in English and Spanish and concentrates on cultural subjects, can be found at http://spaces.msn.com/members/christopherrollason/; his webpage (YATRA) is at.
Click here for a list of credits and acknowledgments to the many people to whom Dr Rollason wishes to express his permanent gratitude for their help and support, without which his writings would not be what they are.